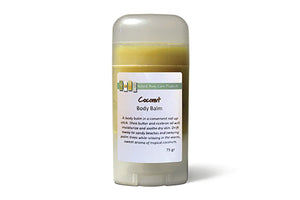 75 g
A body balm in a convenient roll up stick. Hydrating shea butter and rice bran oil will moisturize and soothe dry skin. Drift away to sandy beaches and swaying palm trees while relaxing in the warm, sweet aroma of tropical coconuts.
Since our products are always freshly handmade, please allow for up to 5 business days in addition to the Canada Post shipping estimate you will see during checkout. It will be worth the wait!
Ingredients
: Ontario beeswax, rice bran oil, shea butter, rosemary extract, fragrance.