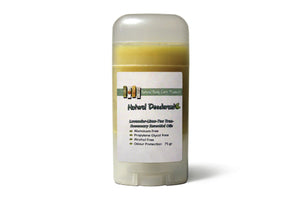 110 g

A refreshing deodorant made with pure essential oils, soothing shea butter, and antibacterial coconut oil. Excellent odour protection without all the stuff your body doesn't need.
alcohol free
aluminum free
propylene glycol free
Since our products are always freshly handmade, please allow for up to 5 business days in addition to the Canada Post shipping estimate you will see during checkout. It will be worth the wait!
Ingredients: Beeswax, coconut oil, shea butter, kaolin clay, rosemary extract, lavender, lime, tea tree & rosemary essential oils.