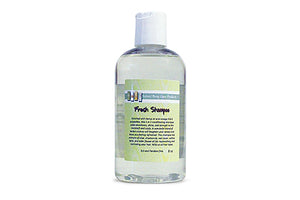 8 oz
Enriched with hemp oil and omega 3 and 6, this 2-in-1 conditioning shampoo adds emollience, shine and strength to the hair shaft and scalp. A wonderful blend of herbal aromas will heighten your senses and leave you feeling refreshed. This shampoo has extracts of aloe, chamomile, red clover, willow bark, and elder flower; all for replenishing and controlling your hair. A mild shampoo for all hair types.
SLS and paraben free.
Since our products are always freshly handmade, please allow for up to 5 business days in addition to the Canada Post shipping estimate you will see during checkout. It will be worth the wait!
Ingredients: Deionized Water, Alkyl Polyglucosides, Cocamidopropyl Betaine, Sodium Cocoamphoacetate, Aloe Barbadensis Leaf Juice, hemp Seed Oil, Sodium Chloride, Vegetable Glycerine, Panthenol (Pro Vitamin B 5),White Willow Bark Extract, Chamomile Flower Extract Red Clover Flower Extract, Elder Flower Extract, Fragrance, Phenoxyethanol and Caprylyl Glycol (Optiphen®).