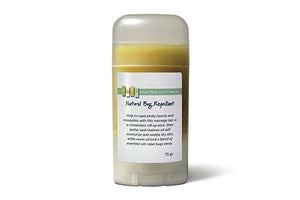 75 g

Help to repel pesky insects and mosquitos with this massage bar in a convenient roll up stick. Hydrating shea butter and olive oil will moisturize dry skin, while neem oil, essentials oils of citronella, clove, lemongrass and lavender will help keep the bugs away.

Since our products are always freshly handmade, please allow for up to 5 business days in addition to the Canada Post shipping estimate you will see during checkout. It will be worth the wait!

Ingredients: Rice bran oil, beeswax, shea butter, neem oil, citronella, clove, lavender & lemongrass essential oils.