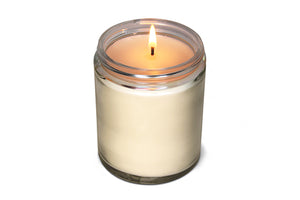 8 oz
When it comes to relaxation, lavender is our 'go to' every time, right? Combine this mellowing aroma - in the form of pure essential oil - with a warm, glowing soy candle and you have yourself a recipe for absolute soul restoration. You need it. You deserve it. You'll love it. Go for it.
Pure soy wax
Natural Oil
Earth-friendly
Toxin-free
Clean-burning
50+ hours of burn time
Directions
Never leave a burning candle unattended.
Trim wax to 1/4" each time you burn it to prevent smoke and soot build-up on jar or other items.
Keep wax free of matches, wick trimmings or other flammable materials.
Burn only on stable, heat-resistant surfaces for no more than 4 hours at a time. Allow it to cool completely between burnings.
Do not move candle while burning or if wax is melted.
Discontinue use when a half inch of wax is left on the bottom. 
Keep out of reach of children or pets.
Caution
Failure to follow instructions could result in fire hazard, injury or smoke damage.